Condo Living – Fire Safety
It is extremely important and your responsibility to have a fire safety plan for you and your family. There may be many questions racing through your mind when you hear the fire alarm go off, but if you have prepared in advance for an emergency scenario, you will be better equipped at making the right choices should a fire occur.
Fire Safety Planning
Consider the abilities of your family members and guests and how these abilities may impact their capacity to communicate and evacuate your home in an emergency. Babies and children rely on adults for their safety. People with temporary disabilities such as broken limbs may not be able to move quickly. People who are elderly may become less confident and more easily confused. We all experience changes during our lives, some of which may impact the way our fire safety needs are met.

Work with the Property Manager
Most provincial or municipal fire codes require that high-rise buildings have fire safety plans. These plans generally require that building managers note any residents with disabilities or activity limitations that might affect them in the event of a fire or emergency situation.
If you have an activity limitation that would prevent you from evacuating independently or if you require some assistance, contact your building manager right away to devise an evacuation plan that is specific to your needs and abilities. After devising your plan, make sure you practice it with building staff and any buddies who may be part of the plan. This will ensure that you are able to have the assistance that you need, when you need it.
Fire Safety In Apartments and Condominiums
If you live in an apartment or condominium building and a fire breaks out, you have to ask yourself a very important question, Do I stay or go? Most of the time, the best thing to do in a fire is to leave the building as soon as possible. However, in some cases you may not be able to leave and may have to stay in your unit. In either case, you must act quickly. No matter what your decision, you must protect yourself from smoke.
If there is a fire in your apartment/condominium:
– Tell everyone in your apartment/condominium to leave
– Close all doors behind you
– Activate the fire alarm by pulling the pull station on your floor and yell "FIRE!"
– Leave the building using the nearest stairway – always go down, never go up
– Call the fire department when you are safe
– Meet the firefighters at the front entrance and tell them where the fire is.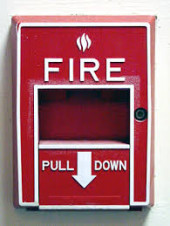 If you decide to leave the building:
When you hear the fire alarm check the door to your apartment/condominium. If smoke is entering from around the door, do not open it. If there is no smoke, brace yourself and open the door a little:
– If you see smoke or feel heat, close the door quickly and protect yourself
– If the corridor is clear, take your keys, lock your door, and go to the nearest stairway
– DO NOT USE THE ELEVATOR
– Open the nearest stairway door carefully
– If there is no smoke, use the stairway to leave the building – always go down, never go up
– If there is smoke, do not enter. Close the door. Go to another stairway and open the door carefully. – If there are no other stairways, return to your unit and protect yourself from smoke.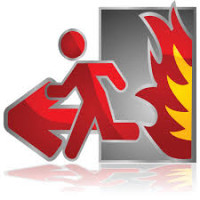 When you are inside the stairway:
If you find smoke on your way down the stairs, leave the stairway as soon as possible. In some buildings, some doors leading from the stairway to the corridor may be blocked. At least every five floors the doors will not lock so you can leave the stairway:
– Use another stairway if it is clear of smoke
– If you can't use any stairway, return to your apartment/condominium or go into any corridor and bang on apartment/condominium doors until you find a place to take shelter
– Never go to the roof, as smoke usually rises to the top of the stairway. Doors opening onto the roof are often locked and as such, you could be trapped
– Remember wherever you are, if there is smoke, crawl low, as the air is cleaner near the floor.
If you remain in your apartment/condominium:
It is important that you protect yourself from smoke. Stay in your unit until you are rescued or until you are told to leave. Do not try to leave your once the alarm has been sounding for a long while. The longer you wait, the more risk there is that heavy smoke will have spread into stairways and corridors:
– Keep smoke from entering your apartment/condominium. Use duct tape to seal cracks around the door and place wet towels at the bottom. Seal vents or air ducts the same way.
If smoke enters your apartment/condominium:
– Call 9-1-1, tell them where you are and then move to the balcony. Close the doors behind you
– If you don't have a balcony, go to the most smoke-free room, close the door and seal it with tape and towels. Open the windows for fresh air
– Show your rescuers where you are by hanging a sheet from the window or balcony
– Keep low to the floor where the air is cleaner
– Listen for instructions from authorities.
For residents living at Tao Boutique Condos in Richmond Hill, please refer to the Fire Safety Package handed out by the Property Management representative for a thorough explanation on Fire Safety. If you still have further questions please contact the Property Management Office.
IN GENERAL TAO BOUTIQUE CONDO OCCUPANTS ARE ADVISED TO:
• Be familiar with your responsibility during a fire condition in the building. Know what to do in case you discover a fire or when you hear the fire alarm
• Know where the exits and pull stations are located for your safe evacuation, and for alerting others
• Call the Richmond Hill Fire & Emergency Services from a safe place, whenever you need emergency assistance.  Dial 9-1- 1
• Know the correct address – 8763 Bayview Avenue, Richmond Hill
• Notify the Property Manager if special assistance is required in the event of an emergency by informing management in writing and stating the nature of your special needs
• Know the audible fire alarm signal and the procedures established to implement safe evacuation