Green Living
Green Living + Earth Day
This past weekend, we were able to enjoy the Green Living Show at the Direct Energy Centre in Toronto.  Our soul mission was to learn about new and interesting eco-friendly products.
The first exhibitor that we visited was Gone Shopping. They are an online retailer that sells "everything fabulously eco".
Here are their noteworthy items: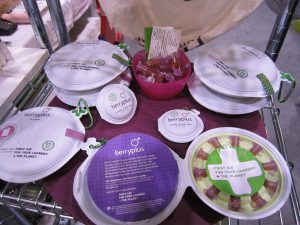 This laundry detergent seems to be a tribute to the adage, "good things come in small packages. BerryPlus is a berry-based natural laundry detergent that comes in pre-measured capsules. The capsules are smaller than a pen cap, and each capsule is more than capable of tackling a large load of dirty laundry.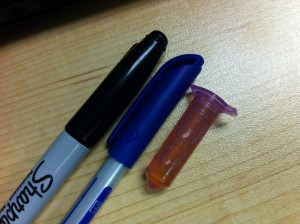 Thanks to its small packaging, BerryPlus results in 30% less packaging than other brands and it only takes up ¼ of truck space and fuel to transport. It is 100% natural and is perfect to use for washing baby items or if you have sensitive skin.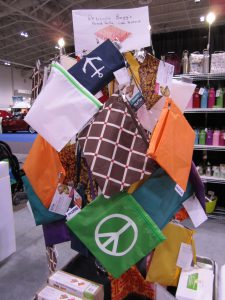 When we initially stumbled upon this display, we thought it was just another reusable bag for cosmetics, storage, cameras, etc. However, after closer examination, we happily discovered that we were wrong.
The RuMe Reusable Baggies are meant to replace Ziploc bags or plastic containers when it comes to lunches or snacks on the go. These baggies are hand wash and dishwasher safe.  They are completely meant to store food, and the company has gone to great lengths to ensure that they will not contaminate your dry snacks. All materials (even the zipper) have been tested to ensure that they are 100% safe for food storage. This is the perfect alternative for Ziploc bags or plastic containers. Ziploc bags are obviously wasteful and plastic containers are too bulky.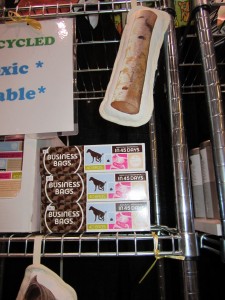 Our four-legged friends are often forgotten when it comes to being eco-friendly. Here are two products, you might want to consider for Fido.
Spike Biodegradable Business Bag (poop bags for dogs)
The Business Bag caught our eye because they break down in a mere 45 days! Now that is quick, an apple core or orange peel takes longer to decompose.
Fetch Stick Recycled Canvas Toys
This toy is made by a company called Ore. Ore is a company that produces environmentally friendly products for your kids, pets and home.  The stuffing of this toy is made with recycled materials, cotton for the stuffing and a sturdy canvas for the exterior.  The toy is machine washable, so you don't have to worry about the toy smelling like doggie drool.
The next exhibitor that we visited is a company that we featured on CBC's famed Dragon's Den.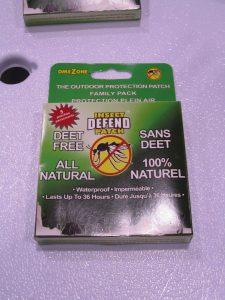 The product is an all natural bug repellent. It is Deet free, waterproof and lasts up to 36 hours.  The product is called Insect Defend Patch and is based out of Milton, Ontario. This patch needs to be adhered to your arm two hours prior to your outdoor adventure, in order to be effective. This is because it takes the body around 2 hours to absorb the product into your skin. The natural product used in the Insect Defend Patch is Vitamin B1.  It is odourless and it will slowly be released through your pores and sweat gland to repel insects.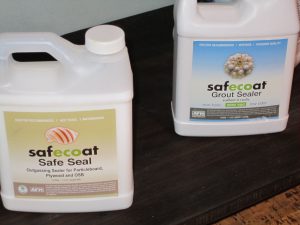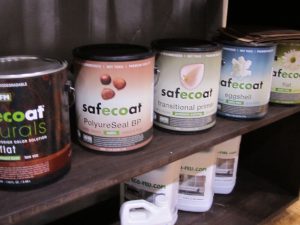 As we moved along, we are very happy to discover the Sustain Muskoka booth at the show. They started their company, as a result of their own home renovation, as they quickly discovered that there weren't many green options for green building.  One of the products that they carry is Safecoat. Safecoat is a company that takes that extra step to ensure that the paint you are using in your home is completely safe. There are many Zero VOC products out there, however many of them still contain toxic ingredients, such as formaldehyde. Safecoat does not have these hidden toxic ingredients and they also create a "safe coat" with a unique formula that seals surfaces and reduces offgassing. Sustain Muskoka also carries natural grout sealer, wood stains and clay plaster.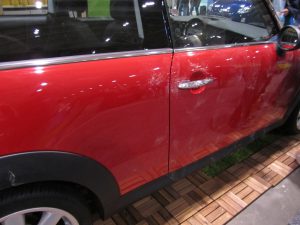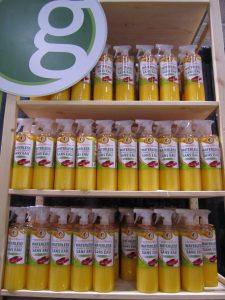 Go Clean was another product that peaked our interest. They are a company based on waterless car care.  All you need is a microfibre towel and some elbow grease.  Many cities and towns have actually banned washing cars in your driveway, due to the water being contaminated by grease, brake dust and the cleaner being used. This product is also great if you if you live in a condo, as water hook-ups in the shared parking garage are highly unlikely.  All you have to do is apply the cleaner to the car and wipe it clean. This product will clean and polish your car, all in one step. By going with this route, it will save up to 500 litres of water per wash.
Our final product is for the kids. You know how they always say; kids are more interested in the box it came in, rather than the toy? Well, Cascades brings this to a whole new level.  They have a biodegradable cardboard house that is made with 100% recycled cardboard.  It is 48" in height and you can easily take it apart when it's not in use. The best parts of this playhouse?  The kids can decorate it any way they like and when they outgrow it, it can be recycled.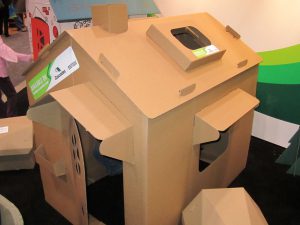 That's it for our Green Living blog post.  Do you know of any eco-friendly must have products? Share your thoughts with us on our Facebook page.
AND!!! Don't forget that tomorrow (Friday April 22nd) is Earth Day. Try to give our planet some TLC and use less energy, use reusable bags, carpool or clean up any garbage in your neighbourhood.
Have a great long weekend and Happy Earth Day!
SigNature Developments