How to Virtual Team Build Like a Champ
With a full year of navigating the family and work world under Covid-19 pandemic restrictions and safety precautions, we have all learned a thing or two about staying safe and apart while keeping our relationships and team strong. Typically our group organizes two or more team building events each year (not including our spontaneous lunches, frittata-Friday cook-offs, fresh air walks, office stair walking, volunteer events, holiday dinners – hmmmmm…just realized we do a lot of team eating) where we get together with the sole focus of having fun, trying something new together and catching up with each other (and yes, it usually includes food and drink).
So how do you keep team building going during pandemic times?
2020 was an exceptionally challenging year for everyone on so many fronts. One thing we found to be more important than ever was to keep the team connected, especially when we weren't able to see each other because of pandemic protocols. To quote one of the most used 2020 words; we "pivoted" keeping the same goal to organize our annual team building events but with altered execution. In 2020, with great success we had our first virtual team building event in May and our second in December.
Pre-tip Tip: Rotate organizers. Each team member takes a turn to organize a team building event. This helps to keep the ideas diversified, introduces people to things they might never do themselves and fosters some friendly co-worker competition of who organized the best event.
Let's get started on organizing your awesome next virtual team building event.
Set a budget and stick to it. Just because it's virtual, doesn't mean you shouldn't dedicate some funds towards supplies and extra fun things. Be realistic with how much to spend per person. While the skies the limit when it comes to creativity, spending can quickly get out of control if you don't have a cap.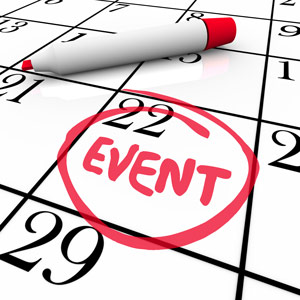 Pick a date and get it into everyone's calendar. This makes sure you give ample notice for people to block their calendars. And it also ensures you, aka The Organizer, have a deadline to work towards. We have all been a victim to getting busy and then pushing things back. Having a firm date helps to keep you on track.
Pick a theme. Themes are fun. They help frame an event and also help you stay focused in organizing your activities. Our May team build was camp theme and December was all about wintery holiday fun. There are so many fun themes – movies, fancy night-out glamour, pick an era (50s, 60s, 70s, 80s…), wild west, disco…anything goes! So get creative and have some fun with setting the theme.
Ask everyone to come dressed up to embody the spirit of the theme. This lets people add their own creative flair and if everyone gets into it, a lot of laughter will ensue. For our May team build in order to make it less stressful for everyone to find theme specific outfits (especially with Covid restrictions), they were simply given the instruction to come dressed to impress (aka wear something silly or stunning as long as it wasn't their ordinary regular day clothes).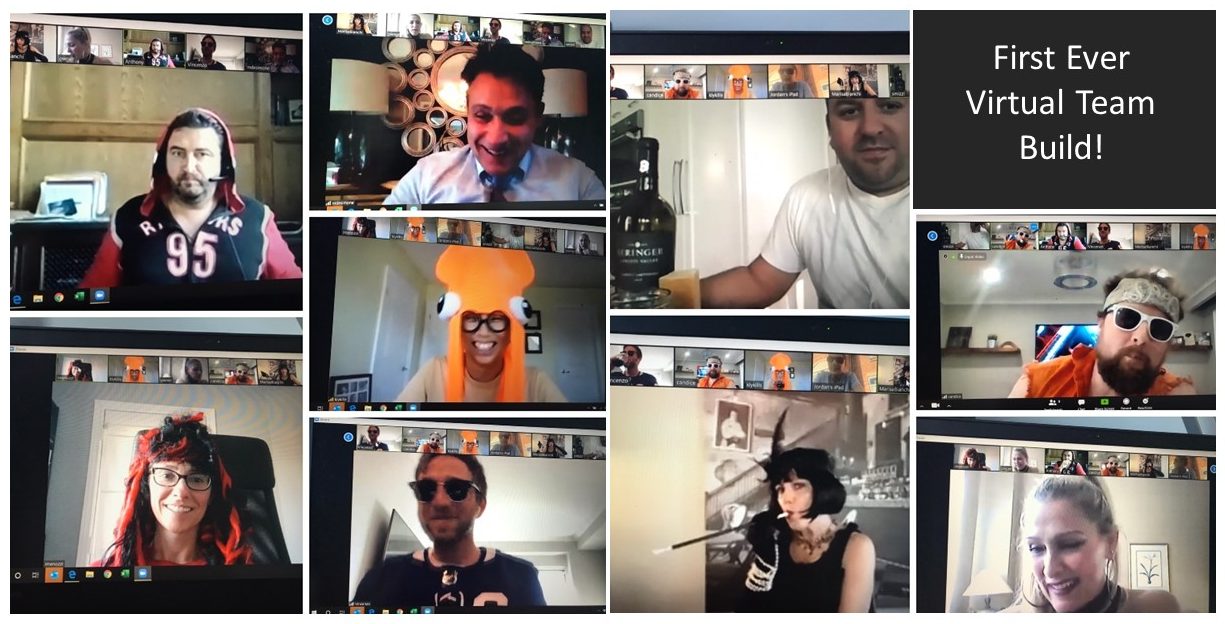 Pre-plan the activities or games to be played. Think of it like planning a kid's birthday party – pre-planned activities to keep everyone engaged, participating and laughing together. Make sure you plan a few activities because you never know how long each game will take and you don't want to be 15 minutes in and have run out of games. You don't have to play them all but you want to be ready and whatever you don't play can be saved for the next time! You can search for online games to play or if you are feeling adventurous you can plan your own. We played scavenger hunt, what's your elf name, guess the Christmas song, Steak the Secret Santa gift, various trivia games and more.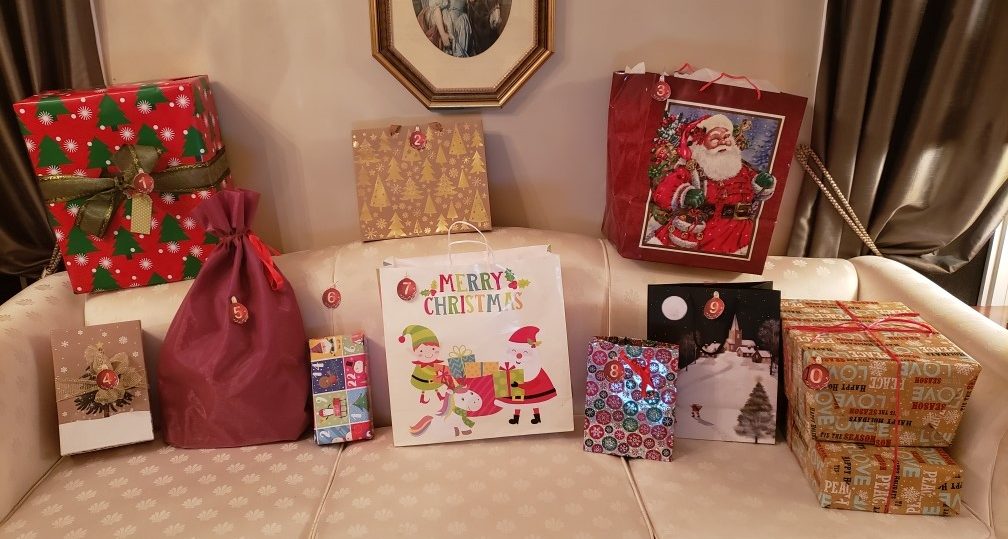 Email an agenda of events in advance. This helps the team understand that it is not a drop-in, that there is structure and sets the tone for on-time attendance and participation. For example: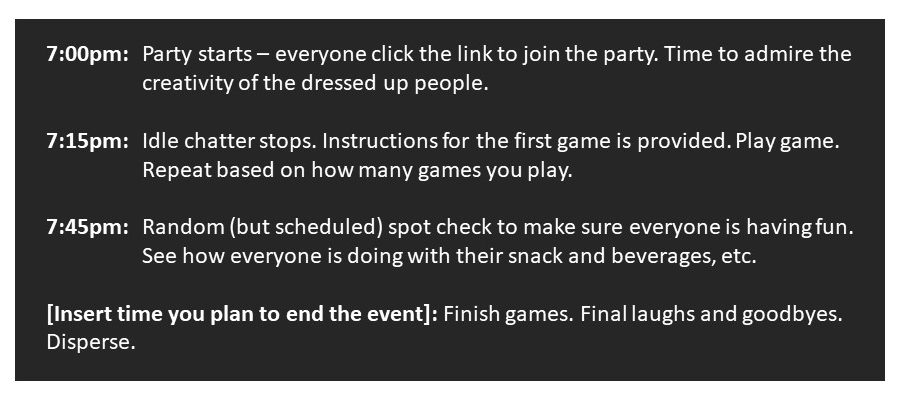 Create team building packages for each person. Arrange how each person will receive their package prior to event day. Packages can include snacks and beverages to match your theme as well any supplies each person needs to play the games. Our camp theme package had a personalized camp cup and some fancy camp beverages and snacks. For our December event we ramped it up and everyone received matching winter onesies, Santa hats, activity supplies and some yummy wintery snacks and beverages.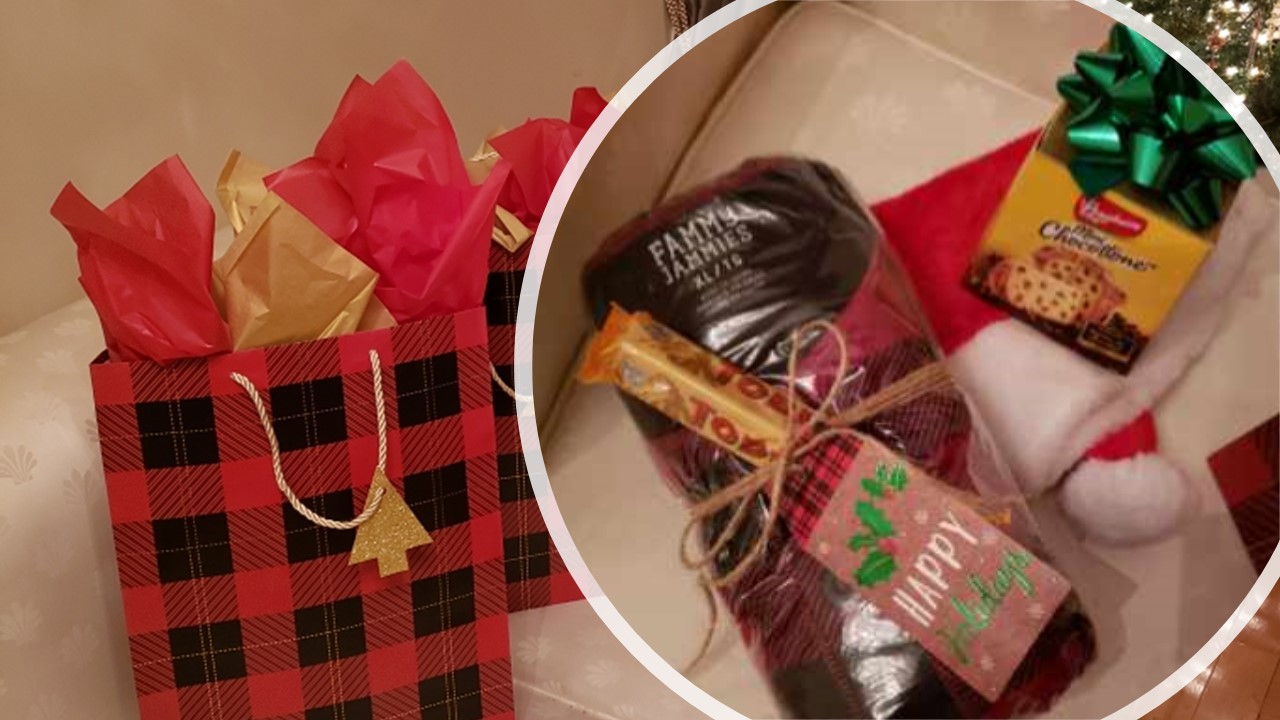 Prizes! Everyone loves prizes! This also helps to encourage spirited competitive participation. Online gift cards are easy to send to the winners.
That's it. You're done. You're ready to host an awesome virtual team building event.
!  Make sure you have your game notes ready, any links you want to use if that's what your game(s) involve and any other supplies you may need.
!  Make sure you are the first to arrive (ie. login 10-ish minutes before the scheduled time so that you are there to greet each person joining.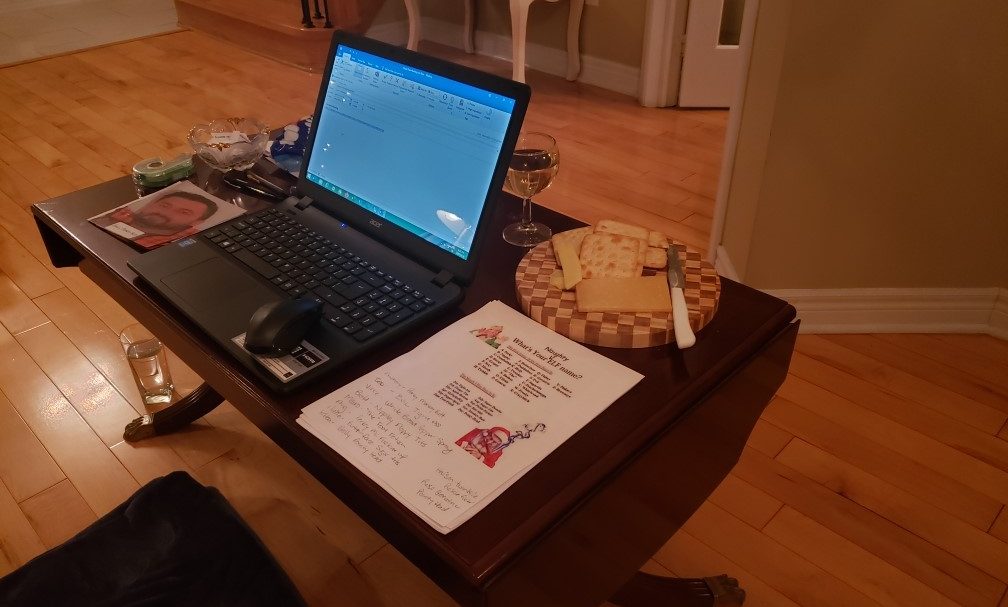 Bonus Tip: Remember – Your enthusiasm will dictate the team's enthusiasm. We get it. Virtual team building isn't the same as being face to face. But it doesn't have to be the same, it just has to be fun and provide an opportunity for everyone to gather and laugh.
When 2020 started we never would have guessed that we'd be planning and doing virtual team building events. And while face to face is generally preferred over virtual, virtual team building is as fun as you make it. Remember, your enthusiasm leading up to the event and on event day will dictate the team's enthusiasm (yes, we did say that already above but it doesn't hurt to say it again because it's so true). It's not about where you are or even what you have planned for the team to do, it's about getting everyone together to keep the fun and team building going.
We foresee more virtual team building in our 2021 future and we are ready and excited.