We're Moving!…Sort Of.
Part I: Packing
Moving to a new office is a lot like moving to a new home – it's a ton of work, it's exciting, it's exhausting, it's busy, but it can also be fun. As a home builder we typically experience all the mixed emotions that come with moving through the eyes of our purchasers. This time around it's us who are on the move and below is a glimpse into the good, the bad, the funny of our moving adventure, with some lessons learned. Note: as this post is being written we are not finished moving, so this will be a two part-er or more post.
To set the stage, it's important to note that this move is not a straight line move from A to B. It's a move from A to holding pattern temporary B to final location B. It's like when you buy a new home and your closing dates don't match up, or you sold your home and your new home is not ready so you choose to move to a temporary location. In our case, the lease for our current location was ending and while we were able to extend our lease month by month we decided the cost didn't make sense especially since the majority of our team is working on sites, working from home, working from the office occasionally and/or a combination. Our solution, with our boutique-sized team of 10 people, where on any given day would typically have between one to three staff working at the office, we decided to set-up an office trailer on the site at our new office location – hence the headline for our post, "We are moving to our new office!…sort of." because while we are moving to our new office location, we aren't actually in the office quite yet.
So in December, we started packing. But first, we had a meeting to figure out who was doing what, to set timelines and deadlines and determine what resources we needed.
Tip #1: Get organized and get everyone on the same page before starting to do anything.
Then we started packing, except that we didn't. We walked through the office first with sticky notes and a magic marker to sort and label.
Tip #2: Before packing, decide what you are keeping, what you are donating, what you are selling and what goes in recycling or garbage. NOTE: This sorting tip works as effectively at home as it does the office! DISCLAIMER: No children were harmed or actually donated in the making of this post!

Golden Rule:


If you didn't remember you had it or if you haven't used it in over a year, you likely won't use it after you move. Take the opportunity to cleanse and declutter.

Ok – now time to pack.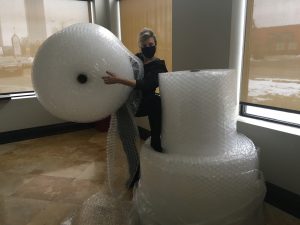 Tip #3a: Juggling the work day responsibilities while trying to pack at the same time can be daunting. Schedule blocks of time to pack (like scheduling yourself into a meeting when you can't be interrupted). Also, set goals for each time-block. For example, "in this time-block my goal is to get a certain number of filing cabinets packed and labelled, or empty the storage closet, or pack all the dishes, etc." This helps to maintain the focus, motivation and gives a nice sense of accomplishment when you complete each goal.
Tip #3b: Don't over pack the boxes and don't get giant boxes. While it's great to minimize the amount of boxes to move, remember, someone has to be able to lift them. We may or may not have forgotten and learned this the heavy way part way through…
Tip #3c: Label every box! And label everything on more than one side (we labelled the top of each box and one side) because you want to be able to quickly tell what's in that box no matter how they are stacked before/after the move.
Tip #3d: If certain boxes are meant for certain floors/rooms, colour code them with stickers or find a system that works for you to keep them organized and grouped.
Tip #3e: When ordering bubble wrap make sure you carefully read how big each roll is. Who would have thought there is such a thing as too much bubble wrap.
Tip #3f: When putting things in the bin, try to distribute it evenly. Another hard lesson learned. But we made it look good and had some fun.
Slowly, working through days of feeling like we weren't making a dent, one day we looked up from our packing and it was like the scene from the Grinch – walls stripped bare where pictures, mirrors and whiteboards once hung, the spot where filing cabinets once stood showed a clear difference in carpet colour, phone and data jacks that were once hidden by desks sat empty on the walls and the cupboards in the kitchen and the shelves in the closets echoed empty when opened.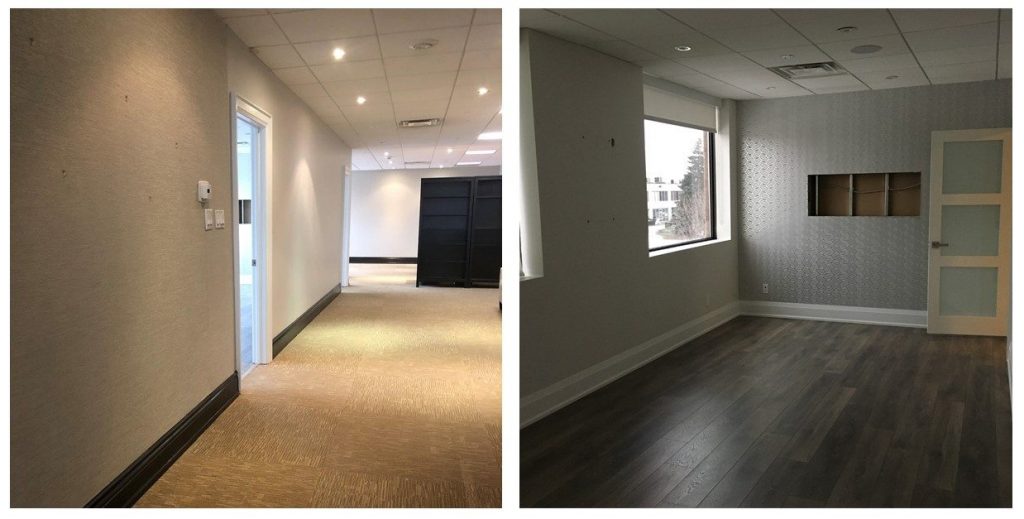 It's bitter sweet looking around at everything packed and everything empty. Packing is crazy, but we managed to squeeze in some fun along the way. The biggest take away from our packing experience is take the time upfront to get organized, that a million papercuts do eventually heal, and that fun must be had along the way!
Stay tuned for Part II – Moving!