2011 National Home Show
This past weekend, we took some time to go to the 59th Annual National Home Show being held at the Direct Energy Centre, Exhibition Place in Toronto.
If you have never been to the Home Show, it is something that you must see! Anything and everything, home related is all under one roof.  Everyone from the first-time buyer to the empty nester will benefit from one of the many options at the Home Show.
The Boulevard of Dreams is always one of the main attractions. This year, there were two model homes, a man cave and beautifully decorated outdoor space.
The first model home was built by Quality Homes and was decorated by Sears.  Quality Homes built their Carleton model, which was a 1640 sq. ft. bungalow. The interior was beautiful, and it was great to know that everything you saw in the model home (including appliances) is available at Sears.  The 3-bedroom model was quite spacious and had tonnes of storage space.
The second model was the Concept by PolygHome. This home is stunningly decorated by Debbie Travis and it was eco-friendly. This is our favourite out of the two models; however we are bias to anything that is eco-friendly!  ThePolygHome is filled with many bioclimatic features, and is built from certified FSC wood beams. Other eco-features include rainwater recovery, solar thermal sensors and energy-efficient glass.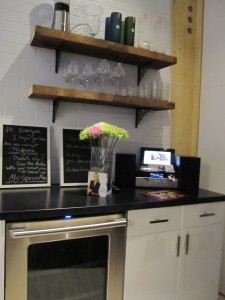 The Man Cave was sponsored by Ryobi and the interior was designed by Ramsin Khachi.  We heard many great things about the Man Cave and I think we built it up too much in our head. We thought it was going to be a garage filled with all things "man" and it would be an environment that no female would dare to enter. However, that was not the case. It was a neatly organized garage that had many cool features such as a mini fridge, chalkboard doors and storage racks for sporting equipment and tires.  One feature that we did find interesting was the retractable foosball table. When the game is not in use, it can be retracted, so it is not in the way of other "man" activities (or the car).  Our only concern is that when it is in use, it may sway too much and interfere with the actual game. However, we understand that it is just a model built for the Home Show, and when a Man Cave is actually built in your own home, it will have many more features, such as being heated and insulated, to ensure that the Man Cave can be used throughout the year.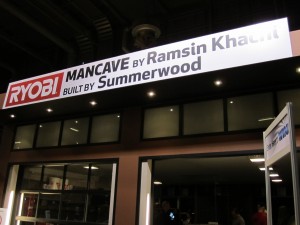 The final component of the Boulevard of Dreams was the outdoor space.  The landscaper that caught our eye was Tersigni Landscape Construction. They had the area directly beside the Man Cave, also known as Garden 5.  Their display featured warm and inviting seating areas and an impressive BBQ space.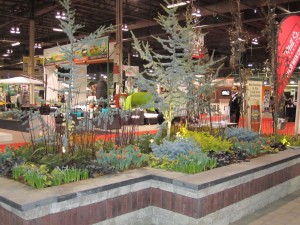 After the Boulevard of Dreams, we took some time to check out the never ending row of booths.  You can find anything at the Home Show – mops, furniture, bbqs, hot tubs, necklaces, stereos – they have it all!
Some green booths that you should check out are the Live Green Pavilion, FrogBox and the Habitat for Humanity ReStore.
The Live Green Pavilion is a great source on how to green your life. They have all the info on green businesses in Toronto and how to apply for grants and rebates. FrogBox (booth #2408) is a company that rents large plastic moving boxes that allows you to have an eco-friendly move. Lastly, the Habitat for Humanity ReStore booth (#240) features recycled items that would normally be considered trash.
The final component of the Home Show is the main stage. The main stage features a plethora of guest speakers.  You can learn how to make sushi with KOKO! House Roll, learn how to garden with Frank Ferragine, and even see Colin & Justin, HGTV's famous design duo!
All in all, the Home Show is something that should not be missed and you should definitely plan a whole day to take in everything it has to offer. The Home Show runs until Sunday, February 27th. Full details can be found at www.nationalhomeshow.com
To view more pictures of the Boulevard of Dreams,  please go to our Facebook page and while you're there, make sure you click on like!
SigNature Developments