2014 Paint Color Trends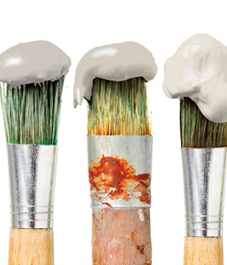 Colors are one of the most influential factor to create the atmosphere in your home. Paint color can be tranquil, fun or relaxing and nature is an amazing source of hues.
StyleAtHome.com made an interesting summary of what paint companies have revealed for 2014.
The seashore has provided for this year endless inspiration. The ocean, the grains of sand, driftwood, shells and even the air have been deciphered in a wide range of nuances: From mint green to delicate blue, from an array of pinks, whites and yellow to gentle pastel shades.
Here some fantastic projects that can help you decide what color you need to create a home that offers more than just a shelter.
Behr
"If you want to set the stage in your own personal space, encompassing this palette in a room with lots of windows set over the water might just make you think you were on vacation year 'round," says Nancy Bollefer, Behr's Canadian marketing manager.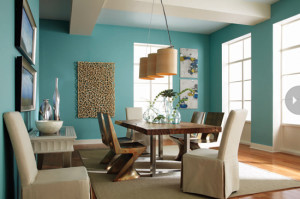 Ocean Liner T14-1, Visit Behr.com
Sico paint
"Friendly, futuristic and energetic, the colors of this palette—rich reds, cool teals and bright yellows—work well on an accent wall of a living area, family room or kitchen," explains Mylène Gévry, brand director at Sico Paint.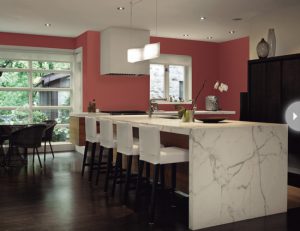 Tomato Peel (6057-53); Visit Sico.ca
Dulux Paint
"Leaning more towards blue than yellow, the new greens work best in open spaces, kitchens or family rooms" says Martin Tustin-Fuchs, brand manager for Dulux Paint.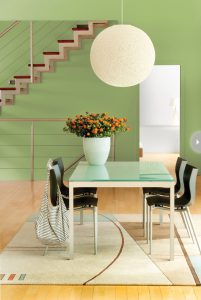 Sea Isle (10GG 57/307); Visit Dulux.ca
CIL Paint
"'Creamy' has a barely there, pastel-like quality that is soft enough to bring a sense of tranquility to even the most active of family rooms. It also works here in this light, airy bedroom." says Alison Goldman, brand manager for CIL Paint.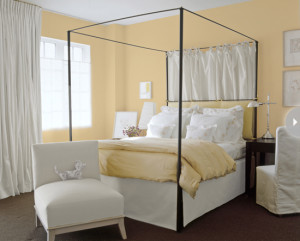 Creamy (50YY 77/285); Visit CIL.ca
Benjamin Moore
Sharon Grech, Benjamin Moore's color and design expert, says there's a shift towards filtered blues, greens, pinks and even lilacs. "These are becoming the new neutrals —just like the sky, 'Breath of Fresh Air' offers a fresh, neutral background in the home that allows all the other colors to shine"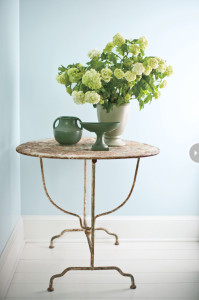 Breath of Fresh Air 806, Aura, Matte; Visit Benjaminmoore.ca
Farrow & Ball
You can actually find mud in this stunning shade of blue on Stiffkey's beach in Norfolk, England. "It's great for creating either a light-heartedenvironment when used with 'Light Blue' and 'Setting Plaster', or for something more dramatic when combined with 'Off Black'," says Sarah Cole, director of Farrow & Ball.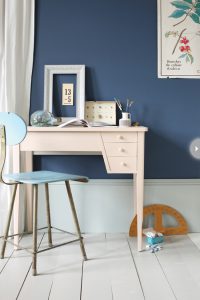 Stiffkey Blue™ No.281 Estate Emulsion; Visit Farrow-ball.com
Beauti-Tone
Use this palette with bright whites to freshen up a sunroom or to brighten a family room, says Bev Bell, creative director for Beauti-Tone Paint.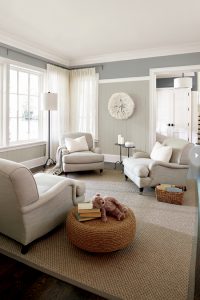 CZ3-0 My Favorite Sweater, CZ4-4 Hearth Stone, CZ7-0 Let's Get Cozy, CZ5-0 White Lite; Visit Homehardware.ca
PARA paints
"A bright yellow automatically evokes thoughts of sunshine and happiness." explains Garry Belfall, senior brand manager at Para Paints. This bright yellow shade is a perfect accent to the current greys and whites, not just as a wall colour, but also painted on furniture or found in a fabric.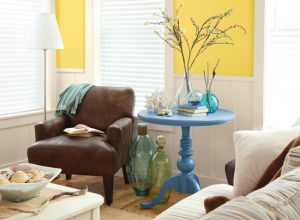 Plantain Chips (PF52); visit Para.com
For further ideas and suggestion on how to decorate your home visit www.styleathome.com